Big Flavor From a Small Town
Loretto
3 MIN READ
"Don't Screw Up the Whisky," says Bill Samuels, Founder of Maker's Mark. The U.S. bourbon industry runs on family heritage, tradition and a deep-rooted legacy that's celebrated during National Bourbon Heritage Month each September. In 1964, Congress declared bourbon whisky as a "distinctive product" and this still holds true today.
Maker's Mark whisky is a brand that spans several generations of the Samuels family and is made today just the way it was when Rob Samuels' grandfather sealed his first bottle. Each and every bottle is still hand-dipped at the distillery with the iconic red wax seal.
Rob Samuels, chief distillery officer and third generation Maker's Mark leader, believes they "make the most consistent whisky that's ever been made anywhere in the world."
Made with soft red winter wheat, this is a one-of-a-kind, full-flavored bourbon – and Kroger, the largest grocery retail partner for Maker's Mark, is the only retailer that participates in the one-of-a-kind Private Select experience.
To bring Private Select bottles to our stores, Kroger's bourbon specialists visit the distillery and personally work with Maker's Mark experts to develop a unique expression of their distinctive flavor. Through testing and tasting variations of flavors, our team chooses a combination of five flavor profiles that makes each sip perfect, from start to finish.
At Kroger, we are thrilled to bring our customers exclusive offerings like a bottle of Maker's Mark that marries the identifiable flavor they know and expect with a unique expression they can't find anywhere else.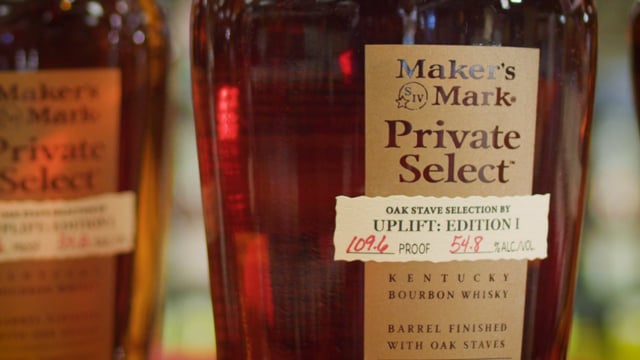 More stories