From Plane to Plate
Miami, Fla.
10 MIN READ
Hi! We're excited to share our journey to experience our Kroger Sustainable Seafood program from start to finish. We kept notes in a diary just for you ... enjoy!
Monday
1:15 p.m. Cincinnati Airport
With video equipment and laptops in tow, we head out to try to capture every detail of the sustainable seafood program! We were told that Miami is the place to go – all of our Atlantic salmon and tilapia fillets for our east coast retail stores arrive through this port.


4:28 p.m. Miami Airport
Upon our arrival we met up with David Long, Kroger seafood expert, who immediately informed us there wouldn't be a sunny commute to the sea. This seafood would be coming in by air tomorrow. We planned to meet for dinner to carefully plot out our next day.

6:10 p.m. @ the hotel
All settled in – it's time to head to dinner with David, the "seafood guru." We had no idea just how much enthusiasm, knowledge and heartfelt passion he had for his job, and for the sustainable seafood program he helped develop.

We decided not to venture far and grabbed a bite to eat at the hotel. None of us realized we would be in for a long dinner filled with passionate discussions about the foods we love to eat, prepare and enjoy with our friends and family. There, among a table of millennials, seasoned seafood veteran David Long took us all by surprise with his very hip and trendy knowledge of food, specifically seafood. He shared his favorite cooking techniques for salmon, told us which fish was less intimidating to cook for the "at home" chef, and made paella sound like a breeze. It was a good thing this conversation was happening over dinner, because all of this talk was making us hungry!

As we were wrapping up the dinner, we realized we were leaving the table armed with a knowledge we didn't have before, thanks to David. It's amazing to think he started his Kroger career as a young associate behind the seafood counter at a store in Bowling Green, Ky.

Tuesday
5:30 a.m. @ the hotel
We met bright and early for a quick meet-and-greet with a representative from Pacific Seafood – our seafood broker. He would escort us to their facility just five minutes away. We left excited to see the first plane from Chile come in with the daily delivery.

6 a.m. Pacific Seafood – Entrance to Miami Gateway
As soon as we arrived, they took our driver's licenses. This IS an international port after all, so security is no joke. In exchange for our IDs they provided us with special clearance to access the gateway.

7:04 a.m. Pacific Seafood – Miami Gateway
As soon as we entered the building, we were taken to the main Pacific Seafood office and were surprised at the modest size of the space and the team. From a 12 x 12 foot "command center," this team is responsible for the logistics, quality control and safety of the seafood that is guaranteed to our customers every single day.

7:20 a.m. Pacific Seafood – Miami Gateway
After meeting the Pacific Seafood team, it was time for the plane from Chile to land. Much to our delight, the day's cargo would consist of fresh and sustainable Atlantic salmon. David had explained to us the importance of sourcing seafood that is SUSTAINABLE. Finding fishermen and fishing companies that guarantee ethical fishing protocols helps ensure that various species of seafood are not overfished or that their practices aren't endangering the ocean environment or leading to species becoming extinct. Sustainability has become a modern necessity and is important not only for the environment, but also to individual consumers who have become more aware of its importance.
Kroger is proud to be recognized as a company dedicated to ethical fishing and sourcing practices.
As we walked onto the tarmac, it started to rain! We took shelter under the MD80 carrying the cargo. The rainstorm didn't stop us. We were determined to capture the full experience. After a bit of coaxing, the TSA agents gave us permission to board the MD80 and watch the unloading process. We'd be kidding if we didn't admit to talks of staying on the plane and heading back to Chile, but it was time to move on to the next stage and head inside as the Pacific Seafood team started their meticulous quality control process.

They prep us with cold weather gear and send us into the 300,000 square foot refrigerated warehouse where the daily seafood shipments are stored. It was neat to look over at David and see the smile on his face. He would throw out a fun fact whenever possible. His passion for seafood is endless! This was our first interaction with the seafood. The shipments were unloaded and prepared for individual inspection. We were told that one foam case had anywhere from five to seven fresh frozen fillets in it, and among a pallet of approximately 500 cases, one of those would be pulled at random to test for temperature and quality control as a standard for the rest of the pallet. If one box does not meet the established temperature and quality requirements, the pallet is passed up by Kroger, and can be purchased by competition.

Once a pallet passes the initial temperature inspection and is deemed compliant with Kroger standards, the shipment goes through a more rigorous inspection process. Yazmin, the lead inspector for the team, showed us the meticulous process from start to finish giving us a better understanding of the important work they are doing. These are the parts of the process that really stood out:


Yazmin starts out by carefully picking each piece of salmon from its refrigerated container and laying it on a cold metal surface.
She uses the thermo-gauge to ensure the salmon's temperature stayed consistent to the standards established by Kroger.
She does a visual scan of the fillet to make sure the cut is precise and then she feels for proper filleting.
Once the fish passes these initial tests, Yazmin uses her Salmofan to compare its coloring to the specific tone Kroger identifies as an acceptable standard.

9:20 a.m. Pacific Seafood – Miami Gateway
We enjoyed watching Yazmin and her team inspect fillet after fillet, but it became apparent to us that the temperature was well maintained at the goal temp of 30 degrees. We were both frozen! After the fish is inspected and approved by our Kroger standards, it is put on a refrigerated truck and headed to our distribution centers. Within four to five days after being caught, our fish is in our stores! As David puts it, "Unless you are going to Honduras, Costa Rica or Chile, this is the fastest and freshest way you can get seafood!" The team showed us a few more areas of the warehouse before we said our goodbyes and retrieved our IDs.

10:45 a.m. @ Miami Airport
As we made our way through the airport, we couldn't stop reminiscing on the day. We felt so much pride in Kroger for being a leader in sustainable seafood. We definitely look forward to trying some new seafood recipes when we get home, and David reminded us to consider the "Easy for You" option at the seafood counter!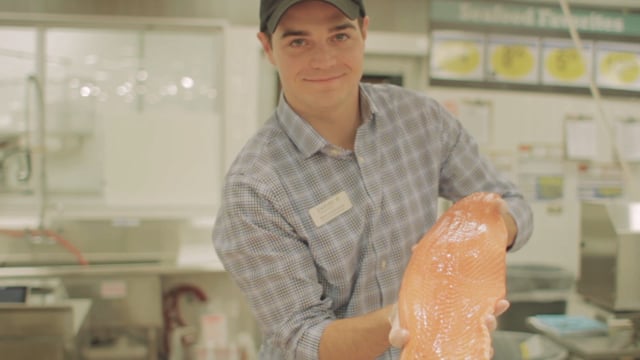 More stories