It's Official: Houston, Nuro Has Landed
Cincinnati
3 MIN READ
What once seemed so far-fetched – to have your groceries show up at your house, delivered by a robot – is now a reality for residents near two Houston-area Kroger stores.
Kroger and Nuro, two companies 2,413 miles apart, are partnering to innovate in ways that will forever redefine the food and grocery experience and serve our customers anything, anytime, anywhere. Customers can now place their order online, have their order hand-picked by Kroger associates then delivered to their door by Nuro's autonomous vehicle. Amazing!
"To see it actually on the streets, pausing at a stop sign, it's really an incredible experience," says Jody Kalmbach, vice president of Digital Experience. "Knowing that through our partnership with Nuro we combine bold innovation and our deep retail customer expertise to hopefully one day be able to provide autonomous delivery to the entire United States is pretty incredible and something we're excited to be on the forefront of."
What began in Arizona as a test in one of our Scottsdale area Fry's stores is now a full pilot in Houston at the South Post Oak Kroger store with the Buffalo Speedway store launching this spring.
"Nuro's initial application of transporting goods through self-driving technology has allowed us to build a real service and have immediate impact on communities," said Nuro co-founder, Dave Ferguson. "We are excited to introduce Houston to our time-saving service that provides customers with their groceries quickly and safely."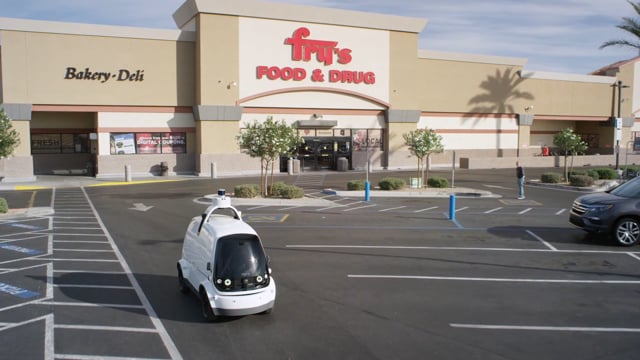 More stories