O, That's Good! And Kroger Donate One Million Meals to Feeding America
Cincinnati
4 MIN READ
Oprah Winfrey's a BIG DEAL. The impact of hunger in America is an even BIGGER DEAL.
That's why, as part of our one-year anniversary celebration of Zero Hunger | Zero Waste – our bold plan to end hunger in our communities and eliminate waste across our company by 2025 — Kroger teamed up with Oprah and her new line of O, That's Good! products to donate an additional one million meals to Feeding America's network of food banks across the country.
Oprah made a surprise appearance at a Zero Hunger | Zero Waste meal-packing event yesterday at the Cincinnati-based Freestore Foodbank. About 100 unsuspecting volunteers from Kroger, the School for the Creative and Performing Arts and the Freestore Foodbank were busy assembling 2,000 packs for Cincinnati-area children, when none other than Oprah herself stopped in to lend a hand.
Many children in the Greater Cincinnati area would go hungry without the Freestore's Power Pack program, which shares packs of healthy goodies for kids to take home from school every Friday to enjoy over the weekend.
As part of the anniversary celebration, Oprah's new food line – O, That's Good! – and Kroger together donated one million meals to Feeding America to help families across the country.
"I am committed to the fight against hunger because I've seen the impact it has on people," said Oprah. "Kroger shares the mission of my O, That's Good! comfort food line, and together we continue to find ways to give back, one meal at a time."
Kroger Chairman and CEO Rodney McMullen agreed. "The joining together of two household names is a milestone in our Zero Hunger | Zero Waste journey," he said "Together, we can change the world and Feed the Human Spirit across America."
After making the announcement, Oprah and Rodney hopped on the packing line to help.
Then Oprah treated the hard-working volunteers to a delicious lunch featuring her very own O, That's Good! pizza along with salad, fruit and ice cream from Graeter's (featured on Oprah's famous "Favorite Things" list).

"It feels great to work a company that truly cares about our communities and puts action behind it with Zero Hunger | Zero Waste," said Joey Maggard, retail operations manager for Kroger and part of the company's sustainability team. "Knowing firsthand what that that experience is like, I believe no child should ever go to bed hungry, and it happens in the U.S. far too often. Our Zero Hunger | Zero Waste Food Rescue program and volunteer opportunities like this make Kroger a great place to work."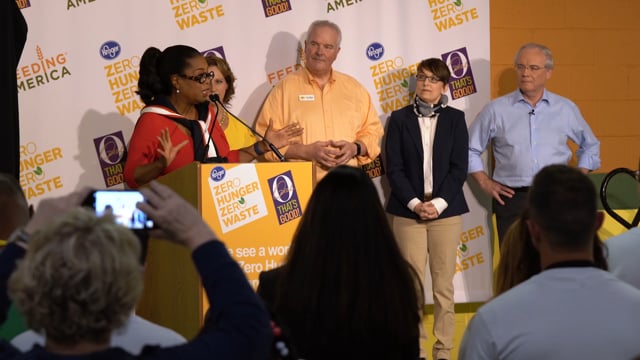 More stories