Kroger's Top Food Trends for 2019
Cincinnati
6 MIN READ
We're excited to announce our top food trend predictions for 2019, insightfully curated by Our Brands new product developers, chefs and innovators, focusing on flexible eating styles.




More than 135 years in the food industry has taught us a lot about food, and about people. No matter the preference or practice, the latest tastes and trends can be found in the aisles where customers shop for Simple Truth®, Kroger's natural, organic and free-from brand, Kroger®, Where Awesome Meets Affordable™, and Private Selection®, a collection of culinary creations designed to elevate every occasion.

The Top 5 Trends are Regional Flavors, Plant-Based Foods, Eating Styles, Gut-Healthy Foods, and Low Sugar and Natural Sweeteners. Let's take a look at each one.

1.  Regional Flavors 
Foods influenced by regions across the country are bringing flavor and fun to any meal. From tried-and-true barbecue sauces and flavorful potato chips with a twist – inspiration is coming from Nashville hot chicken, Southern Appalachian pimento cheese and other geographies. America's culinary heritage is as varied as it is delicious. Consumers will see a growing number of products influenced by local, regional and global tastes.

Products to Try: Private Selection BBQ sauces inspired by the Carolinas, Texas, Memphis and Kansas City, Kroger Nashville Hot Chicken Chips, Private Selection Pimento Cheese & Harissa Kettle Chips, Kroger Cuban Sandwich Kettle Chips, Private Selection Brown Butter Bourbon Truffle Ice Cream, and Private Selection Bourbon Barrel Cola

2.  Plant-Based Foods
Our consumers are finding it is easier than ever before to incorporate more plant-based fare into their daily diets. By choosing to go meat or dairy free, whether for a meal, a Meatless Monday, Flexitarian Friday, or every day of the week, there will be more plant-based options available to power through the day. Last year, 31 percent of consumers participated in meat-free days once per week (Mintel, Protein Report, 2017).


Products to Try: Simple Truth Coconutmilk, Simple Truth Powdered Coconutmilk Creamer, Simple Truth Meatless Patties, Simple Truth Tofu, Simple Truth Greens & Grains Risotto, Simple Truth Organic Lentils, Simple Truth Organic Light Red Kidney Beans, and Simple Truth Organic Hummus
3. Eating Styles
More of our consumers are purchasing better-for-you products and subscribing to different eating styles, from vegetarian to flexitarian to keto and paleo. A recent study reports 15 percent of the U.S. population identify as vegetarian or vegan (Mintel, Protein Report, 2017). We are responding by offering and developing new products that make it easy for any customer practicing any lifestyle to find foods to support their health and wellness journey.

Products to Try: Simple Truth Date Bars, Simple Truth Frozen Quinoa and Red Pepper Omelet Bites, Simple Truth Tofu, Simple Truth Chicken, Simple Truth Grain Free Original Paleo Friendly Granola, Private Selection Beef Jerky, Private Selection Avocado Oil, Simple Truth Organic Coconut Oil, and Kroger Gluten-Free Pizzas

4. Gut Healthy Foods


Medical studies show that a healthy gut is the foundation of overall wellness, and more than ever before, consumers are seeking foods that support self-care and healthy immune systems. Our consumers will find a growing number of products rich in probiotics— good bacteria—and flavor.

Products to Try: Simple Truth Organic Kombucha (Blueberry Ginger; Raspberry Hibiscus; Blueberry Grape; and Strawberry Lemonade), Simple Truth Organic Apple Cider Vinegar, Kroger Greek Yogurt, and Kroger Probiotic Low-Fat Milk

5. Low Sugar and Natural Sweeteners
Many of our consumers are motivated to reduce or eliminate sugar and/or consume alternate natural sweeteners like honey and agave. In fact, 47 percent of consumers say they are working to minimize their sugar intake (Mintel, Better for You Report, 2017). New solutions and foods will continue to be added to grocery shelves to help consumers find products rich in nutrition and flavor and lean on sugar.


Products to try: Simple Truth Organic Blue Agave Light Golden Syrup, Simple Truth Orange Blossom Honey, Simple Truth Organic Seltzer Water, Simple Truth Organic Coconut Sugar, Kroger Fizz & Co. Seltzers (Cola, Root Beer, The Dr.), Kroger Carbmaster Yogurt, Kroger Carbmaster Milk, and Kroger Carbmaster Cottage Cheese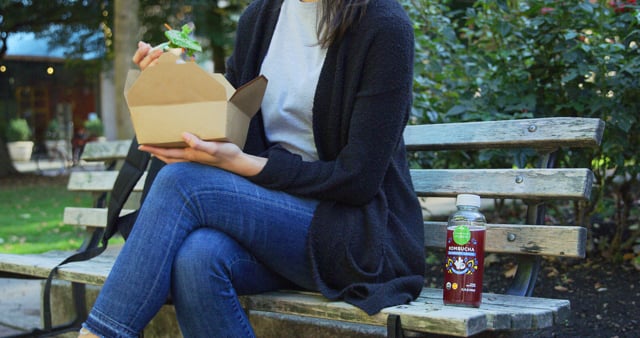 More stories