Let's Choose to Reuse
Denise Osterhues
4 MIN READ
Each year, Americans throw away 100 billion – with a B – plastic bags. And even though we tend to think of plastic bags as being recyclable, they pose an environmental burden, contaminating waterways, threatening our sea life and piling up in our landfills.

It's time to do something about it.

Starting today, we're working to phase out single-use plastic grocery bags as part of our Zero Hunger | Zero Waste social impact plan, our commitment to end hunger in our communities and eliminate waste across our company by 2025.

"The environmental consequences of single-use plastic bags are well known. It's a bold move that will better protect our planet for future generations."


We believe there are less wasteful ways for shoppers to take their groceries home, and we're committed to offering them better options. As always, we are open to new ideas and our customers' feedback, and we will work with NGOs and community partners for a smooth and responsible transition.

We set the date of 2025 both to follow the same timeline of Zero Hunger | Zero Waste, and not to rush our customers. We understand they'll need time to transition to a new way of shopping. However, for those ready today, we encourage customers to bring reusable bags with them every time they shop. We also offer Zero Hunger | Zero Waste reusable bags in many of our stores. For each bag sold, a meal is donated to Feeding America.




We recognize this is just one small step in Kroger's journey to reduce plastic waste, and we have more work to do. As part of our ongoing commitment to improve sustainability, we'll continue to work with the Our Brands team and our valued partners and vendors to improve our product packaging.

We know such major change can't happen overnight. But, as America's grocer, we want to be part of the solution.

Together, we can all be Zero Heroes!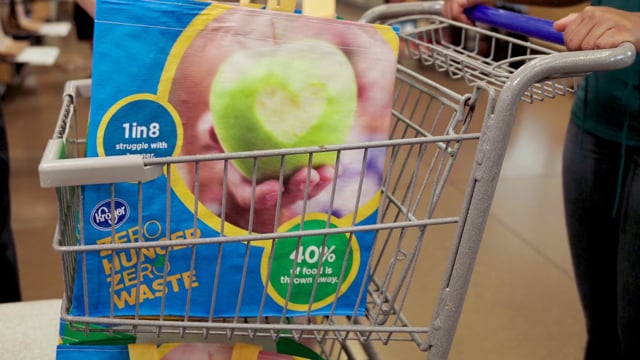 More stories