Meeting of the Minds
Dayton, Ohio
6 MIN READ
As two friends and Kroger colleagues sat down to enjoy a beer and cheese pairing event at their local Kroger marketplace store in Dayton, Ohio, they uncovered a community in their local grocery store!
Talking with these two Kroger gurus who spear-headed the event – Chris Green, Kroger Adult Beverage specialist, and Mark Lucier, Cheese field specialist and Murray's Cheese expert – shows they were the brains behind this marriage of beer and cheese. It's amazing what one's passion for food can lead to, and it was evident with each sip and bite.

They shared their excitement about this event, and their plans to pursue hosting another. We were interested in documenting how something like this came to be, what was involved, and how two people who had started with Kroger at a young age had grown to become experts in pairing craft beer with artisanal cheese! Wasn't that like "Food Network" stuff after all?!
Chris started with Kroger as a bagger in 2000, and then he worked as a cashier. What started as a part-time job grew into a full-time passion. He has worked in nearly every department within a store. He moved into store management in 2009, and from there joined the Grocery Merchandising team as a field set specialist and manager. His experience in Grocery Merchandising exposed him to the Adult Beverage department, which led him to his current role and cultivated his passion for local brews.
"My time with Kroger has helped me grow not only as a person, but professionally. I don't feel that I would have had the same opportunities elsewhere," says Chris. "I've had great support with every role I've had from some outstanding leadership. They have helped mold me for any role I pursue and assist me in my continued growth within the organization."
Mark Lucier, currently Cheese field specialist and Murray's Cheese expert in Kroger's Cincinnati Division, joined Kroger in 2008 as their first Murray's Cheesemaster at the busy Hyde Park store in Cincinnati. He quickly decided he didn't want to leave. In 2013, he became an American Cheese Society Certified Cheese Professional. During this time, he also completed the Store Management Development Program to get more store experience. Following his passion for artisanal and craft cheeses, Mark participated in the Murray's cheese training program in New York City, earning his Murray's Red Jacket all while working as an assistant store manager at the Glenway Avenue store on Cincinnati's West Side.
Mark's passion for food, especially cheese, continues to propel his career forward. He was recently promoted to Murray's Cheese project manager for Kroger's Deli Merchandising team at the corporate office in downtown Cincinnati. "I'm fortunate to have an amazing career doing what I love every day," explains Mark. "In many stores, Murray's Cheese and Growler bars are next to each other. It seemed only natural to give our customers a unique experience that promotes both cheese and adult beverages," says Mark of the joint venture.
Chris and Mark took different paths to get where they are today, but their passion to look for something more within their own field, and the physical proximity of the Murray's Cheese department to the Growler bar is what led them to become a dynamic duo of pairings.

Their excitement and love for what they do led them to foster new ideas and create unique ways to engage with customers. Their desire to share it brought these two experts together to form a community, or "Kro-munity" as we like to call it!
"I get to do what I love every day. I love the partnerships with local breweries, bringing people together and surprising customers with unique local experiences."

– Chris Green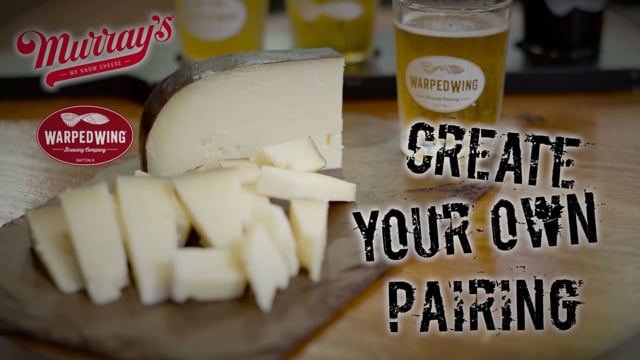 More stories