4 MIN READ
Jessica Kelly /
Continuing the Kentucky Derby Tradition
The Journey of the Roses
Louisville, Ky
4 MIN READ
Since 1987, Kroger's master floral designers have crafted the "Garland of Roses," the prize given the winning thoroughbred at the Kentucky Derby. Every year, hundreds of people gather at the Kroger store in Middletown, Ky., to watch one of the world's most-recognized floral arrangements take shape.
It takes nearly a dozen master florists and many volunteers approximately seven hours to create the garland, which measures 122 inches long by 22 inches wide, weighs 40 pounds and contains more than 400 Rainforest Alliance Certified "Freedom" Roses. The roses are hand-selected and individually sewn into the backing, each with its own vial of water to keep it fresh.

The finished garland gets a police escort to Churchill Downs, where it's displayed for viewing and guarded by the U.S. Navy until it is presented to the winning horse and jockey. Kroger is proud to create the Garland of Roses to celebrate "the greatest two minutes in sports."
"With the Garland of Roses being such an important part of the Kentucky Derby tradition, it is a true honor for our team of floral designers to be involved," said Carol Belser, manager of Kroger's Floral Center in Louisville.
But before the greatest two minutes in sports and the seven hours hand crafting the garland, Kroger, the nation's largest florist, works with leading suppliers and Rainforest Alliance Certified flower farms to deliver flowers free of dangerous agrochemicals; where soils, waterways and wildlife habitat are protected; and where farm workers enjoy decent housing, access to medical care and schools for their children. Our partnership assures our flowers have been grown and harvested using environmentally friendly and social responsible practices – not only for our garland roses, but for all flowers our customers purchase every day.
Now you can see how it all comes to life. Enjoy a behind-the-scenes look at the creation of the garland – from a Rainforest Alliance Certified grower in Bogota, Columbia, all the way to the Winner's Circle at Churchill downs.
Watch the "Journey of the Roses" to see the humanity and passion in every step of this amazing partnership.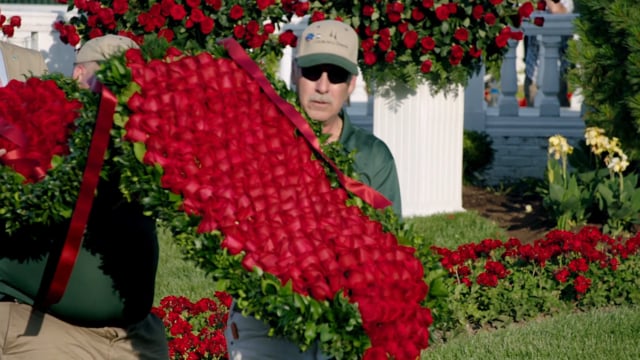 More stories